Talk with Her: A Dad's Essential Guide to Raising Healthy, Confident, and Capable Daughters (Paperback)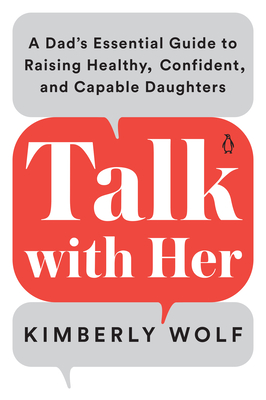 $18.00

Coming Soon - Available for Pre-Order Now - Please check release date!
Description
---
A comprehensive guide to help dads support their daughters through the preteen and teen years up to adulthood

"Communication" with your daughter doesn't mean having "big" conversations all the time. Creating even the smallest moments of father-daughter connection can build bonds. In Talk with Her, you'll find information on nineteen topics defining your daughter's life—including body positivity, romantic relationships, social media, mental health, and academic achievement—along with the communication strategies you'll need to address them with care and confidence.

With cutting-edge research, expert perspectives, and talking points, Kimberly Wolf brings broad-ranging and often overwhelming topics into focus to help you make a positive, lifelong impact on your daughter one conversation at a time.

"Kimberly Wolf provides a vital map for fathers in navigating the most important—and often the most challenging and turbulent—aspects of father-daughter relationships. This is an engaging, insightful, thoughtful, and wonderfully useful book." —Dr. Richard Weissbourd, Senior Lecturer and Faculty Director of Making Caring Common, Harvard Graduate School of Education

About the Author
---
Kimberly Wolf, M.Ed., is an educator, speaker, and educational consultant with an undergraduate degree in gender studies from Brown University and a master's degree in human development and psychology from the Harvard Graduate School of Education. Her experiences growing up in Los Angeles and attending an all-girls school sparked her passion for equipping girls with the wisdom and skills they need to succeed in all areas of life during the school years and beyond. Fifteen years into her career, through conversations with friends, colleagues, and collaborators who were fathers of daughters, Wolf realized she was in a unique position to demystify girlhood for dads, helping them communicate better with their daughters, maximize their parental impact, and inspire young women to reach their potential. In addition to being an expert in her field, she is also a daughter with a deep personal belief in the transformative power of strong father-daughter relationships. Talk with Her is her first book.
Praise For…
---
"Eminently helpful debut...This is essential reading for dads looking to help their daughters successfully navigate some turbulent years." 
—Publishers Weekly

"In a reassuring tone, she reminds us that 'it may seem like she's not listening to you, but she can hear you, and that's what matters most.' Wolf includes sensitive topics that dads (and all parents) may be nervous about approaching, including sexual orientation, gender identity, transforming bodies, and social media influence. Talk with Her is an important addition to parenting collections." 
—Booklist

"Talk With Her is a must read if we want to understand the power of connection between men and their daughters. Building deeper family bonds, especially among fathers and daughters, is an important pathway to a new era of gender equity and human connection."
—Eve Rodsky, New York Times bestselling author of Fair Play and National Bestseller, Find Your Unicorn Space

"Kimberly Wolf provides a vital map for fathers in navigating the most important—and often the most challenging and turbulent—aspects of father-daughter relationships. This is an engaging, insightful, thoughtful, and wonderfully useful book."
—Dr. Richard Weissbourd, senior lecturer and faculty director of Making Caring Common, Harvard Graduate School of Education