Reappraisals: Reflections on the Forgotten Twentieth Century (Paperback)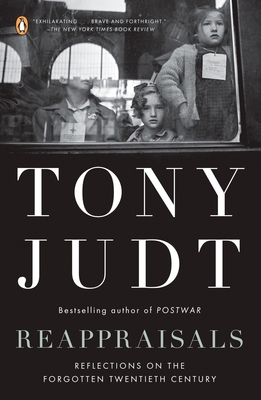 $22.00
This title is likely Out of Print or otherwise unavailable
Description
---
"Exhilarating . . . brave and forthright." —The New York Times Book Review

"Perhaps the greatest single collection of thinking on the political, diplomatic, social, and cultural history of the past century." —Forbes

We have entered an age of forgetting. Our world, we insist, is unprecedented, wholly new. The past has nothing to teach us. Drawing provocative connections between a dazzling range of subjects, from Jewish intellectuals and the challenge of evil in the recent European past to the interpretation of the Cold War and the displacement of history by heritage, the late historian Tony Judt takes us beyond what we think we know of the past to explain how we came to know it, showing how much of our history has been sacrificed in the triumph of myth—making over understanding and denial over memory. Reappraisals offers a much-needed road map back to the historical sense we urgently need.

Judt's book, Ill Fares the Land, republished in 2021 featuring a new preface by bestselling author of Between the World and Me and The Water Dancer, Ta-Nehisi Coates.
About the Author
---
Tony Judt was the Erich Maria Remarque Professor of European Studies at New York University, as well as the founder and director of the Remarque Institute, dedicated to creating an ongoing conversation between Europe and the United States. He was educated at King's College, Cambridge, and the École Normale Supérieure, Paris, and also taught at Cambridge, Oxford, and Berkeley. Professor Judt was a frequent contributor to The New York Review of Books, The Times Literary Supplement, The New Republic, The New York Times, and many journals across Europe and the United States. He is the author or editor of fifteen books, including Thinking the Twentieth Century, The Memory Chalet, Ill Fares the Land, Reappraisals: Reflections on the Forgotten Twentieth Century, and Postwar: A History of Europe Since 1945, which was one of The New York Times Book Review's Ten Best Books of 2005, the winner of the Council on Foreign Relations Arthur Ross Book Award, and a finalist for the Pulitzer Prize. He died in August 2010 at the age of sixty-two.
Praise For…
---
"Exhilarating . . . brave and forthright." —The New York Times Book Review

"Perhaps the greatest single collection of thinking on the political, diplomatic, social, and cultural history of the past century." —Forbes

"By turns fascinating [and] edifying . . . Judt is one of our foremost historians of Europe, an elegant writer and subtle thinker." —Los Angeles Times