The Pursuit of Power: Europe 1815-1914 (The Penguin History of Europe) (Paperback)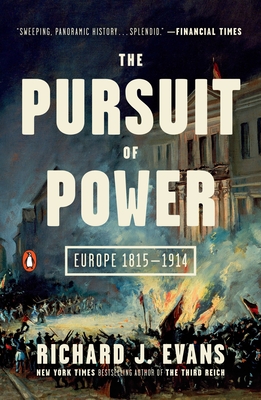 Description
---
An Economist Best Book of the Year

"Sweeping . . . an ambitious synthesis . . . [Evans] writes with admirable narrative power and possesses a wonderful eye for local color . . . Fascinating."—Stephen Schuker, The Wall Street Journal

From the bestselling author of The Third Reich at War, a masterly account of Europe in the age of its global hegemony; the latest volume in the Penguin History of Europe series

Richard J. Evans, bestselling historian of Nazi Germany, returns with a monumental new addition to the acclaimed Penguin History of Europe series, covering the period from the fall of Napoleon to the outbreak of World War I. Evans's gripping narrative ranges across a century of social and national conflicts, from the revolutions of 1830 and 1848 to the unification of both Germany and Italy, from the Russo-Turkish wars to the Balkan upheavals that brought this era of relative peace and growing prosperity to an end. Among the great themes it discusses are the decline of religious belief and the rise of secular science and medicine, the journey of art, music, and literature from Romanticism to Modernism, the replacement of old-regime punishments by the modern prison, the end of aristocratic domination and the emergence of industrial society, and the dramatic struggle of feminists for women's equality and emancipation. Uniting the era's broad-ranging transformations was the pursuit of power in all segments of life, from the banker striving for economic power to the serf seeking to escape the power of his landlord, from the engineer asserting society's power over the environment to the psychiatrist attempting to exert science's power over human nature itself.
      The first single-volume history of the century, this comprehensive and sweeping account gives the reader a magnificently human picture of Europe in the age when it dominated the rest of the globe.
About the Author
---
Richard J. Evans was born in London and educated at Oxford University. He has taught at Columbia University and Birkbeck, University of London, and since 2014 has been the Regius Professor Emeritus of History at the University of Cambridge. His many publications include an acclaimed three-volume history of the Third Reich and a recent collection of essays, The Third Reich in History and Memory. A Fellow of the British Academy and the Royal Society of Literature, he is a past winner of the Wolfson History Prize, and was twice a History Honoree at the Los Angeles Times Book Awards. In 2012 he was appointed Knight Bachelor in the Queen's Birthday Honors List, for services to scholarship.
Praise For…
---
"The Pursuit of Power...unpacks the fascinatingly complex and interconnected range of historical forces at work between 1815 and 1914. . . [A] skillful  interweave of political conflict and transition, economic transformation social upheaval and cultural change."—The New York Times Book Review

"An outstanding volume that leaves no stone unturned in providing a taut narrative of this important era of modern European history. Using dense and well written narrative and cogent analysis of cause and effect, Professor Evans has provided another excellent contribution to [the Penguin History of Europe] series."—New York Journal of Books
 
"Wonderfully researched, highly readable, engrossing . . . The Pursuit of Power is required reading for anyone looking to understand what is at the foundation of today's global economy, the difficulties between nations, or for those simply wondering how Europe as a whole came to its current form."—Portland Book Review

"A massive and masterful account . . . This is a beautifully written, wide-ranging study that explores in depth the political, social, and economic factors that shaped and continue to shape modern Europe and the wider world."—Booklist, (starred review)

"An impressive and richly documented new book . . . A distinguished scholar of Germany, Mr. Evans is just as sure-footed across the continent . . . The book is particularly illuminating on how social trends after 1848—the spread of education, the standardization of languages, railway development and the mass production of newspapers—led to the rise of political forces like nationalism and democracy . . . Mr. Evans is a skilled synthesizer with a strong eye for narrative . . . the book's real success lies with its timeliness. Europe is rendered not as a geographical space—its eastern borders have always been hard to define—but as a collective entity with a shared history. European leaders invited ruin upon themselves when they forgot that in 1914. They should never do it again."—The Economist

"Sweeping, panoramic history . . . Splendid . . . Evans wants above all, as he puts it, to convey 'the flavor of the period, in its mixture of strangeness and familiarity, and as far as possible to allow contemporaries to speak for themselves.' This he does beautifully, enlivening his straightforward narratives with short sketches of little-known but fascinating personalities . . . fine scholarship."—Financial Times
 
"Magnificent . . . masterly . . . This outstanding and authoritative synthesis, weaving social, political, diplomatic, cultural, engineering, scientific and economic history, is eminently readable and so carefully crafted that I was always reluctant to put it down. It will help readers appreciate the period of Europe's growing dominance in the world as seen from variety of perspectives and better understand some of the roots of World War I."—BookPage

"Transnational history at its finest . . . social, political and cultural themes swirl together in one great canvas of immense detail and beauty."—The Times

"Dazzlingly erudite and entertaining."—Dominic Sandbrook, The Sunday Times