A Little Larger Than the Entire Universe: Selected Poems (Paperback)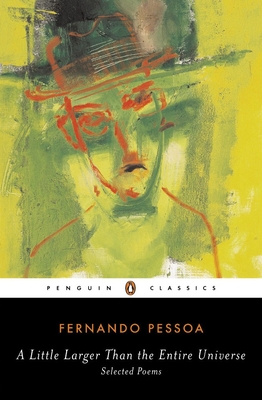 Description
---
The largest and richest English-language volume of poetry from "the greatest twentieth-century writer you have never heard of" (Los Angeles Times)
 
Edited, Translated, and with an Introduction by Richard Zenith, the author of the Pulitzer Prize finalist Pessoa: A Biography

A Penguin Classic

Writing obsessively in French, English, and Portuguese, poet Fernando Pessoa (1888–1935) left a prodigious body of work, much of it credited to three "heteronyms"―Alberto Caeiro, Ricardo Reis, and Alvaro de Campos―alter egos with startlingly different styles, points of view, and biographies. Offering a unique sampling of his most famous voices, this collection features Pessoa's major, best-known works and several stunning poems that have come to light only in this century, including his long, highly autobiographical swan song. Featuring a rich body of work that has never before been translated into English, this is the finest introduction available to the stunning breadth of Pessoa's genius.
About the Author
---
Fernando Pessoa (1888–1935) was born in Lisbon and brought up in Durban, South Africa. He returned to Lisbon in 1905. A prolific writer, ascribing his work to a variety of personas or heteronyms, Pessoa published little in his lifetime and supported himself by working as a commercial translator. Although acknowledged as an intellectual and a poet, his literary genius went largely unrecognized until after his death.
 
Richard Zenith (editor, translator, introducer) lives in Lisbon, where he works as a freelance writer, translator, and critic. He was a finalist for the Pulitzer Prize for Pessoa: A Biography. His translations include Galician-Portuguese troubadour poetry; novels by Antonio Lobo Antunes; Pessoa's The Book of Disquiet, which won the Calouste Gulbenkian Translation Prize for Portuguese Translation; Fernando Pessoa and Co.: Selected Poems, which won the PEN Award for Poetry in Translation; and João Cabral de Melo Neto's Education by Stone: Selected Poems, which won the Academy of American Poets' Harold Morton Landon Translation Award. In 2012, Zenith was awarded Portugal's Pessoa Prize.
Praise For…
---
"Pessoa was one of the great, twentieth-century poets, the equal of Yeats, Rilke, Valéry, Lorca, Pasternak, or Hart Crane. Here, at long last, is a copious selection, translated by the gifted poet and scholar Richard Zenith. It is cause for rejoicing." ―John Ashbery