Frankenstein (Paperback)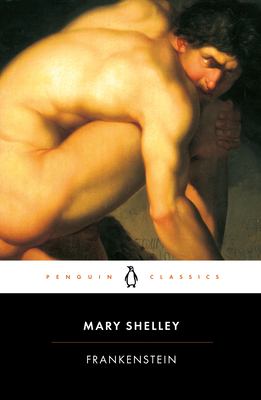 Description
---
The world's most famous work of horror fiction: a devastating exploration of the limits of human creativity. Nominated as one of America's best-loved novels by PBS's The Great American Read

Mary Shelley's timeless gothic novel presents the epic battle between man and monster at its greatest literary pitch. In trying to create life, the young student Victor Frankenstein unleashes forces beyond his control, setting into motion a long and tragic chain of events that brings Victor to the very brink of madness. How he tries to destroy his creation, as it destroys everything Victor loves, is a powerful story of love, friendship, scientific hubris, and horror. Based on the third edition of 1831, this Penguin Classics edition, with an introduction and notes by Maurice Hindle, contains all the revisions Mary Shelley made to her story, as well as her 1831 introduction and Percy Bysshe Shelley's preface to the first edition. It also includes as appendices a select collation of the texts of 1818 and 1831 together with "A Fragment" by Lord Byron and Dr John Polidori's "The Vampyre: A Tale."

For more than seventy years, Penguin has been the leading publisher of classic literature in the English-speaking world. With more than 1,700 titles, Penguin Classics represents a global bookshelf of the best works throughout history and across genres and disciplines. Readers trust the series to provide authoritative texts enhanced by introductions and notes by distinguished scholars and contemporary authors, as well as up-to-date translations by award-winning translators.
About the Author
---
Mary Shelley was born in 1797, the only daughter of writers William Godwin and Mary Wollstonecraft Godwin. In 1814 she eloped with poet Percy Bysshe Shelley, whom she married in 1816. She is best remembered as the author of Frankenstein, but she wrote several other works, including Valperga and The Last Man. She died in 1851.

Maurice Hindle studied at the universities of Keele, Durham and Essex, gaining a Ph.D. in Literature from Essex in 1989. He currently teaches at the Open University.
Praise For…
---
Mary Shelley's Frankenstein is one of the masterpieces of nineteenth-century Gothicism. While stay-ing in the Swiss Alps in 1816 with her lover Percy Shelley, Lord Byron, and others, Mary, then eighteen, began to concoct the story of Dr. Victor Frankenstein and the monster he brings to life by electricity. Written in a time of great personal tragedy, it is a subversive and morbid story warning against the dehumanization of art and the corrupting influence of science. Packed with allusions and literary references, it is also one of the best thrillers ever written. Frankenstein; Or, the Modern Prometheus was an instant bestseller on publication in 1818. The prototype of the science fiction novel, it has spawned countless imitations and adaptations but retains its original power.
This Modern Library edition includes a new Introduction by Wendy Steiner, the chair of the English department at the University of Pennsylvania and author of The Scandal of Pleasure.

Mary Shelley was born Mary Wollstonecraft Godwin in 1797 in London. She eloped to France with Shelley, whom she married in 1816. After Frankenstein, she wrote several novels, including Valperga and Falkner, and edited editions of the poetry of Shelley, who had died in 1822. Mary Shelley died in London in 1851.