Welcome to the O.C.: The Oral History (Hardcover)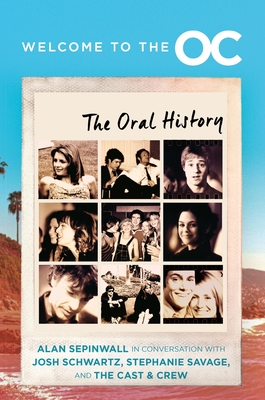 Description
---
"A fascinating peek behind the making of a megahit, and a delightful bit of nostalgia for those of us who remember life before streaming TV." —Town & Country
Welcome to the O.C., b*tch: it's the definitive oral history of beloved TV show The O.C., from the show's creators, featuring interviews with the cast and crew, providing a behind-the-scenes look into how the show was made, the ups and downs over its four seasons, and its legacy today. 
On August 5th, 2003, Ryan Atwood found himself a long way from his home in Chino—he was in The O.C., an exclusive suburb full of beautiful girls, wealthy bullies, corrupt real-estate tycoons, and a new family helmed by his public defender, Sandy Cohen. Ryan soon warms up to his nerdy, indie band-loving new best friend Seth, and quickly falls for Marissa, the stunning girl next door who has secrets of her own. Completing the group is Summer, Seth's dream girl and Marissa's loyal—and fearless—best friend. Together, the friends fall in and out of love, support each other amidst family strife, and capture the hearts of audiences across the country.
Just in time for the show's twentieth anniversary, The O.C.'s creator Josh Schwartz and executive producer Stephanie Savage are ready to dive into how the show was made, the ups and downs over its four seasons, and its legacy today. With Rolling Stone's chief TV critic and bestselling author Alan Sepinwall conducting interviews with the key cast members, writers, and producers who were there when it all happened, Welcome to the O.C. will offer the definitive inside look at the beloved show—a nostalgic delight for audiences who watched when it aired, and a rich companion to viewers currently discovering the show while it streams on HBO Max and Hulu.
The O.C. paved the way for a new generation of iconic teen soaps, launched the careers of young stars, and even gave us the gift of Chrismukkah. Now, it's time to go back where we started from and experience it all over again. 
Includes exclusive interviews with: Ben McKenzie * Mischa Barton * Adam Brody * Rachel Bilson * Peter Gallagher * Kelly Rowan * Melinda Clarke * Tate Donovan * Chris Carmack * Autumn Reeser * Willa Holland * Samaire Armstrong * Alan Dale * Colin Hanks * Amanda Righetti * Navi Rawat * Shannon Lucio * Michael Cassidy * McG * Imogen Heap * Alex Greenwald * Ben Gibbard * Paul Scheer * Doug Liman * and many more! 
About the Author
---
JOSH SCHWARTZ became the youngest person in network television history to create and run a network drama when The O.C. premiered on Fox in 2003. He subsequently launched the original Gossip Girl for the CW with frequent collaborator Stephanie Savage. Over the next twenty years, Schwartz and Savage produced over five hundred hours of television via their Fake Empire Productions including Chuck, Looking for Alaska, Marvel's Runaways, Nancy Drew, Dynasty, Hart of Dixie, The Carrie Diaries, Gossip Girl and, most recently, City on Fire.
STEPHANIE SAVAGE started her career as an executive at Drew Barrymore's Flower Films, then formed Wonderland Sound and Vision with Director McG. It was here she met Josh Schwartz, and transitioned to writing and producing full time. She co-created the original Gossip Girl with Schwartz, where she served as showrunner for all six seasons. Together they formed Fake Empire and have since put over a dozen shows on the air, including six with first time creators.
Praise For…
---
"Twenty years after the hit teen drama The O.C. first aired, its creators are taking us all for a romp down memory lane with an oral history of the series, featuring interviews with its stars, writers, directors, and more. It's a fascinating peek behind the making of a megahit, and a delightful bit of nostalgia for those of us who remember life before streaming TV." — Town & Country
"Will most likely satisfy any O.C.-heads (Newpsies?) craving a glimpse into the backstage drama, network chaos, on-set romance, and, of course, the show's iconic music. ... The riveting book features enthralling and often hilarious interviews with the entire principal cast, memorable guest stars, directors, producers, and even some big-name musicians whose work was featured on the show. The oral history is both a story about a once-in-a-lifetime hit...and the highly competitive landscape of network television in the early 2000s." — Daily Beast
"A splendid retrospective. ... A must-read for viewers of the show's original run, but it works, too, for those meeting the Cohens and their fellow Orange County residents for the first time via streaming services." — Associated Press
"Fans of the series will devour. … The only thing missing from this definitive dive is Ryan's trademark brooding." — Paste Magazine
"Sepinwall talked to basically every important actor, creative person, and executive associated with the series. He also knows his O.C., having written about it extensively when it was on the air. ... I was blown away by how many new tidbits Alan uncovers." — Vulture
"The ultimate tell-all book." — Cosmopolitan
"[A] juicy look behind the scenes of the television series The O.C. ... The insider perspectives are refreshingly candid and offer new insights into what went into making the much loved show. The O.C. fans won't want to miss this." — Publishers Weekly
"A revealing oral history of the unlikely teen drama. ... Skillfully captures the show's surprising sizzle without letting anyone off the hook for its many shortcomings." — Kirkus Reviews
"The perfect companion for any TV fan feeling a little nostalgic." — TVLine
"An oral history of the seminal teen drama (which, if we're all being honest, has stood the test of time because it's so much more than a teen drama). ... Happy early Chrismukkah." — InsideHook
"Packed with juicy, behind-the-scenes scoop about making the show, from the casting process to the way the stars behaved." — Yahoo! Entertainment
"A comprehensive oral history of the addictive soap, featuring interviews with its creators, cast, and crew, revealing how a modern TV classic (barely) got made." — Rolling Stone