Land of Broken Promises (Hardcover)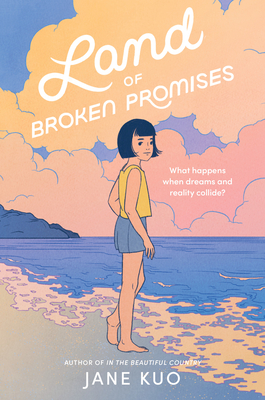 Description
---
Taiwanese immigrant Anna and her family make a shocking discovery that puts their American dreams at risk in this searing companion to In the Beautiful Country, which Gene Luen Yang called "vivid and hopeful."
After a rocky first year, Anna's family have settled into life in California—their small restaurant is even turning a profit. Then her parents make a shattering discovery: their visas have expired.
Anna's world is quickly overwhelmed by unfamiliar words like "undocumented" and "inequality." She longs to share with a friend the towering secret that looms over every aspect of her life, but her parents strictly forbid her from telling anyone.
As Anna grapples with the complexities of being undocumented, the strain that it places on her family, and the loneliness of keeping it all to herself, she has to wonder—if America is the promised land, why does everything she's hoped for feel like a lie?
Perfect for fans of Kelly Yang, Reem Faruqi, and Jasmine Warga, this middle grade novel in verse, inspired by the author's own experiences, focuses on themes of legal documentation, identity, and language's ability to divide and unite. 
About the Author
---
Jane Kuo is a Chinese and Taiwanese American writer who grew up in Los Angeles in the 1980s. Jane's novels In the Beautiful Country and Land of Broken Promises are fictional stories inspired by the weekends and summers she spent working in her family's fast food restaurant. Please visit her online at janekuo.com. 
Praise For…
---
"Kuo's verse is artfully balanced in tone, never sugarcoating the struggles of the immigration experience but acknowledging the good times as well." — Kirkus Reviews
"Despite their difficult circumstances, Ai Shi and her parents navigate their world with relentless optimism, perseverance, and an earnest belief in their dreams." — Horn Book Magazine