Things My Son Needs to Know About the World \ Cosas que mi hij (Spanish edition): Cosas que mi hijo necesita saber sobre el mundo (Paperback)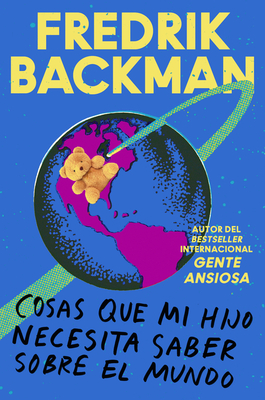 $16.99

On Our Shelves Now - Please call to confirm stock for hot titles
Description
---
No existe un manual para aprender a ejercer uno de los trabajos más difíciles que existe: ser padre. Afortunadamente para nosotros, el autor sueco más reconocido e interesante de nuestros tiempos, Fredrik Backman (Un hombre llamado Ove, Gente ansiosa, Britt-Marie estuvo aquí), nos alumbra el camino con anécdotas personales tan graciosas como enternecedoras.
A mi hijo: Quiero pedirte disculpas por todo lo que haré durante más o menos los próximos dieciocho años. Pero, cuando me ponga difícil, cuando me comporte de forma bochornosa, o arbitraria o injusta contigo, quiero que recuerdes bien aquel día que te negaste a decirme dónde diablos habías escondido las malditas llaves del coche. Entonces, quiero que recuerdes que fuiste tú quien lo empezó todo. —Tu papá.
Cosas que mi hijo necesita saber sobre el mundo abarca las preocupaciones, situaciones y temáticas de la paternidad de forma lúdica y sensible como pocos saben hacerlo. Una invitación honesta y conmovedora a celebrar los altibajos y el camino imperfecto de la paternidad.
FREDRIK BACKMAN es autor de nueve libros, entre ellos el bestseller internacional Un hombre llamado Ove, cuya versión cinematográfica fue candidata a dos Óscar, y Gente ansiosa, una futura serie en Netflix. Sus obras han sido traducidas a cuarenta y seis idiomas. Backman vive en Estocolmo con su esposa y sus dos hijos.
About the Author
---
Fredrik Backman, a blogger and columnist. He is the New York Times bestselling author of A Man Called Ove and My Grandmother Asked Me To Tell You She's Sorry. Both were number one bestsellers in his native Sweden and around the world, and are being published in more than thirty five territories. He lives in Stockholm with his wife and two children.