Welcome to Night Vale: A Novel (Paperback)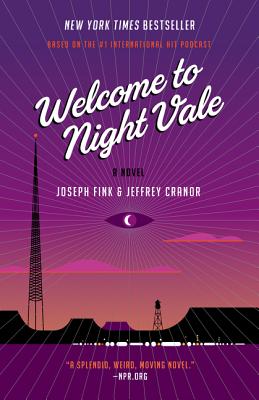 $16.99

Available from our Distributors - Usually arrives in-store in 2-7 days
Other Books in Series
This is book number 1 in the Welcome to Night Vale series.
Description
---
From the creators of the #1 international hit podcast Welcome to Night Vale comes an imaginative mystery of appearances and disappearances that is also a poignant look at the ways in which we all struggle to find ourselves . . . no matter where we live.
Welcome to Night Vale . . . a friendly desert community somewhere in the American Southwest. In this ordinary little town where ghosts, angels, aliens, and government conspiracies are commonplace parts of everyday life, the lives of two women, with two mysteries, are about to converge.
Pawnshop proprietor Jackie Fierro abides by routine. But a crack appears in the standard order of her perpetually nineteen-year-old life when a mysterious man in a tan jacket gives her a slip of paper marked by two pencil-smudged words: KING CITY. Everything about the man unsettles her, especially the paper that she cannot remove from her hand. Yet when Jackie puts her life on hold to search for the man, no one who meets him can seem to remember anything about him.
Diane Crayton's fifteen-year-old son, Josh, is moody and a shape-shifter. Lately, Diane has started to see the boy's father everywhere she goes, looking the same as he did the day he left when they were teenagers. Josh is growing ever more curious about his estranged father—leading to a disaster Diane can see coming but is helpless to prevent.
Diane's search to reconnect with her son and Jackie's search to reclaim her routine life draw them increasingly closer to each other, and to this place that may hold the key to their mysteries and their futures . . . if they can ever find it.
About the Author
---
Joseph Fink is the creator of the Welcome to Night Vale and Alice Isn't Dead podcasts, and the New York Times bestselling author of Welcome to Night Vale, It Devours!, and The Faceless Old Woman Who Secretly Lives in Your Home (all written with Jeffrey Cranor), and Alice Isn't Dead. He is also the author of the middle-grade novel, The Halloween Moon. He and his wife, Meg Bashwiner, have written the memoir The First Ten Years. They live together in the Hudson River Valley.
Jeffrey Cranor cowrites the Welcome to Night Vale and Within the Wires podcasts. He also cocreates theater and dance pieces with choreographer/wife Jillian Sweeney. They live in New York.
Praise For…
---
"This is a splendid, weird, moving novel…It manages beautifully that trick of embracing the surreal in order to underscore and emphasize the real - not as allegory, but as affirmation of emotional truths that don't conform to the neat and tidy boxes in which we're encouraged to house them." — NPR.org
""The book is charming and absurd - think "This American Life" meets "Alice in Wonderland." — Washington Post
"Longtime listeners and newcomers alike are likely to appreciate the ways in which Night Vale, as Fink puts it, "treats the absurd as normal and treats the normal as absurd." What they might not foresee is the emotional wallop the novel delivers in its climactic chapters." — Austin Chronicle
"The hit podcast is absurd and hilarious, and as a book it's similarly entertaining…" — The Guardian
"Fink and Cranor's prose hints there's an empathetic humanity underscoring their well of darkly fantastic situations. . . . the book builds toward a satisfyingly strange exploration of the strange town's intersection with an unsuspecting real world." — Los Angeles Times
"Welcome to Night Vale lives up to the podcast hype in every way. It is a singularly inventive visit to an otherworldly town that's the stuff of nightmares and daydreams." — BookPage
"As a companion piece, "Welcome to Night Vale" will be hard to resist. Though the book builds toward a satisfyingly strange exploration of the strange town's intersection with an unsuspecting real world, its mysteries - like the richest conspiracy theories - don't exist to be explained. They just provide a welcome escape." — Detroit Free Press
"The charms of 'Welcome to Night Vale' are nearly impossible to quantify. That applies to the podcast, structured as community radio dispatches from a particularly surreal desert town, as well as this novel, written by the podcast's co-creators, Joseph Fink and Jeffrey Cranor." — Minneapolis Star Tribune
"This is the novel of your dreams. . . . A story of misfit family life that unfolds along the side streets, back alleys and spring-loaded trap doors of the small town home you'll realize you've always missed living in. When it says 'welcome,' it's mandatory. You belong here." — Glen David Gold, author of Carter Beats the Devil and Sunnyside
"Welcome To Night Vale brings its eponymous desert town to to vivid life. . . . It is as weird and surreal as I hoped it would be, and a surprisingly existential meditation on the nature of time, reality, and the glow cloud that watches over us." — Wil Wheaton
"Take Conan's Hyborea, teleport it to the American Southwest, dress all the warriors in business casual and hide their swords under the floorboards -- that's Night Vale: absurd, magical, wholly engrossing, and always harboring some hidden menace." — John Darnielle, author of Wolf in White Van
"Brilliant, hilarious, and wondrously strange. I'm packing up and moving to Night Vale!" — Ransom Riggs, author of the #1 New York Times bestselling Miss Peregrine's Home for Peculiar Children
"This small town full of hooded figures, glowing clouds, cryptically terrifying public policies, and flickering realities quickly feels more like home than home. . . . There is nothing like Night Vale, in the best possible way." — Maureen Johnson, author of 13 Little Blue Envelopes and The Name of the Star
"They've done the unthinkable: merged the high weirdness and intense drama of Night Vale to the pages of a novel that is even weirder, even more intense than the podcast." — Cory Doctorow, author of Little Brother and co-editor of Boing Boing
"Emotionally compelling and superbly realized. This seductive, hilarious book unfolds at the moment when certain quiet responsible people find they must risk everything on behalf of love, hope, and understanding. Not a single person who reads this book will be disappointed." — Deb Olin Unferth, author of Revolution and Vacation
"As a fan of Welcome to Night Vale, Jeffrey Cranor and Joseph Fink have delighted me with stories that are clever, twisted, beautiful, strange, wonderful, and sweet. This book does all of that and more. I think this might be the best book I've read in years." — Patrick Rothfuss, author of The Name of the Wind
"Co-creators of the popular Welcome to Night Vale podcast, successfully expand the mythology of their strange desert town. Fans will find it refreshing to see Night Vale from different perspectives . . . but knowledge of the podcast isn't required to follow the story." — Publishers Weekly
"All hail the glow cloud as the weird and wonderful town of Night Vale brings itself to fine literature. . . . A fantastic addition with a stand-alone tale of the mysterious desert town that also offers loyal listeners some interesting clues about the nature of the place." — Kirkus Reviews (starred review)
"In their novelistic adaptation of the eerie yet comic landscape of Night Vale, Fink and Cranor have managed to create an excellent stand-alone book perfect for newcomers while also including plenty of winks to longtime fans…" — Shelf Awareness
"As enjoyable and eerie as the podcast" — Paste Magazine
"A marvelous book.... Like the podcast, the novel is full of people we love and root for, full of frightening things, and full of dramatic tension that pays off beautifully with resolutions worthy of any great tale of traditional conflict." — boingboing.com
"A wonderfully creepy tale filled with revelations about the nature of the town and its residents." — AV Club
"Welcome to Night Vale: A Novel masterfully brings the darkly hilarious, touching and creepy world of the podcast into the realm of ink and paper." — Asbury Park Press
"Fast moving and sturdily written…an excellent introduction to a town everyone should get the chance to explore." — Daily Californian
"This is the kind of book that'll make you say ALL HAIL THE GLOW CLOUD. Whether you're a fan of the strange and upsetting Welcome to Night Vale podcast or you're new to Night Vale and its quaint desert conspiracies, it's never a bad time to visit Night Vale. " — Bustle
"Welcome to Night Vale: A Novel is easily enjoyed on its own terms - even for those who are new to the town of Night Vale - largely because the storytelling shines so brightly on the level of its individual parts." — Vox