Grounded: Finding God in the World-A Spiritual Revolution (Paperback)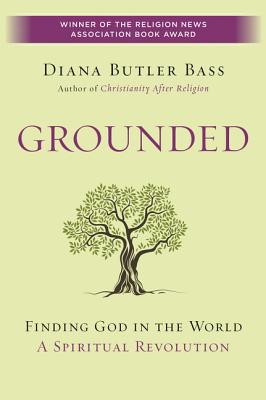 Email info@chaucersbooks.com or call (805) 682-6787 for price
May Be Available From the Publisher
Description
---
Winner of the RNA Book Award, Nautilus Award, and Wilbur Award.
This special paperback edition includes a 40-day devotional that pairs passages from Grounded with prayers and reflections, ideal for use during the Lenten season or any season of reflection.
The headlines are clear: religion is on the decline in America as many people leave behind traditional religious practices. Diana Butler Bass, leading commentator on religion, politics, and culture, follows up her acclaimed book Christianity After Religion by arguing that what appears to be a decline actually signals a major transformation in how people understand and experience God. The distant God of conventional religion has given way to a more intimate sense of the sacred that is with us in the world. This shift, from a vertical understanding of God to a God found on the horizons of nature and human community, is at the heart of a spiritual revolution that surrounds us — and that is challenging not only religious institutions but political and social ones as well.
Grounded explores this cultural turn as Bass unpacks how people are finding new spiritual ground by discovering and embracing God everywhere in the world around us—in the soil, the water, the sky, in our homes and neighborhoods, and in the global commons. Faith is no longer a matter of mountaintop experience or institutional practice; instead, people are connecting with God through the environment in which we live. Grounded guides readers through our contemporary spiritual habitat as it points out and pays attention to the ways in which people experience a God who animates creation and community.
Bass brings her understanding of the latest research and studies and her deep knowledge of history and theology to Grounded. She cites news, trends, data, and pop culture, weaves in spiritual texts and ancient traditions, and pulls it all together through stories of her own and others' spiritual journeys. Grounded observes and reports a radical change in the way many people understand God and how they practice faith. In doing so, Bass invites readers to join this emerging spiritual revolution, find a revitalized expression of faith, and change the world.
About the Author
---
Diana Butler Bass is the author of eight books on American religion, including Christianity After Religion, Christianity for the Rest of Us, and A People's History of Christianity. She holds a Ph.D. in Religious Studies from Duke University, has taught at the college and graduate level, and is currently an independent scholar. She was a columnist for the New York Times Syndicate, and blogs for the Huffington Post and the Washington Post on issues of religion, spirituality, and culture. Bass is a popular speaker at conferences, colleges and universities, and churches across North America. She lives in Alexandria, Virginia, with her husband, daughter, and dog. Her website is dianabutlerbass.com and she can be followed on Twitter at @dianabutlerbass.
Praise For…
---
"With her usual blend of plain-talking and sharp insight, Diana Butler Bass brings into focus the usually fuzzy realm of the spiritual but not religious, providing a much-needed guidebook for... the often-perplexing but growing turn away from organized religion."
— Religious Newswriters Association

"I've been grateful for Bass's sharp mind, but upon finishing Grounded, I found myself in love with her mystical heart and gorgeous storytelling. We need to believe that God is with us, in dirt and water and suffering and homes and neighborhoods. God is definitely in this book."
— Glennon Doyle Melton, author of Carry On, Warrior

"Provocative and well-researched, Grounded is an admirable contribution to the understanding of contemporary American Christianity, which is in constant needs of reformation. May the church listen."
— National Catholic Reporter

"A profound and literary book."
— Christian Century

"Bass' credentials... frequently help bridge the gap between those who practice Christianity and those who research it. 'What makes her an unusual voice among commentators in American religion right now is that she's a proponent of hopeful religion.'… Grounded champions a return to nature and an embrace of hospitality."
— Religion News Service

"In her excellent treatise, [Bass] declares the current state of religion as not dying but transforming…. Bass's biblical and effusive style, always mixing the personal with the political and scriptural, finds a deeper, more profound register in this latest book."
— Publishers Weekly (starred review)

"Grounded is a wise and beautiful book. It is, in fact and in places, almost an anthem to the sacred unity of the physical and the spiritual in the formation of human faith and in the maturation of the human soul."
— Phyllis Tickle, author of The Great Emergence

"In Grounded, Diana Butler Bass brings theology back down to earth. She writes about the environment and about the church in a way that makes sense, feels authentic, and doesn't put you to sleep. A stunning book that will open up new conversations in the church and beyond."
— Shane Claiborne, author of The Irresistible Revolution

"I absolutely love this book. I've long respected Diana Butler Bass for her intelligent, academic approach to the religious conversation, and never more so than in the pages of this book. Grounded made me love this beautiful world more deeply, and made God's presence more visible everywhere I looked."
— Shauna Niequist, author of Savor and Bread & Wine

"An absolutely gorgeously written book about real faith in the real world."
— James Martin, SJ, author of Jesus: A Pilgrimage

"In this lyrical, mystical, and spiritual book, … Bass has made an important contribution by beautifully explaining a broader and more inclusive understanding of God that can be embraced by the spiritually independents ("spiritual but not religious") and also by those rooted in one of the world's religions. "
— Spirituality and Practice

"'There is nothing worse than sleeping through a revolution,' Bass says. Her new book will not only help you wake up. It will equip you to be an enthusiastic participant in what I believe is the deepest and most important movement taking shape in our lifetime."
— Brian D. McLaren, speaker, activity, and author of A New Kind of Christianity

"The reversing of engines that Diana Butler Bass describes in Grounded was first announced by Jesus himself, of course. How strange that it should seem so new and even revolutionary 2,000 years later."
— Richard Rohr, O.F.M., Center for Action and Contemplation

"Diana Butler Bass's thoughtful mandate amounts not so much to a dismissal of the church, but a summons to renewal that can be both faithful and contemporary. Her accent champions a connectedness to the actual context in which we live."
— Walter Brueggemann, Columbia Theological Seminary

"Americans' search for the divine is alive and well, although it looks different than it has in the past. In Grounded, Bass investigates the spiritual lives of contemporary believers, questioning what happens when people expand their search for God beyond church buildings to the world around them."
— Deseret News

"With one part mysticism, one part theology, and one part ecology, each chapter takes us from a theologically sound understanding of the sacred nature of the natural world to a mystical understanding of tending that world, then to sections on real crises in our world, ecologically and economically."
— Clarion Journal

"Bass digs her fingers into the soil of our surroundings to unearth a new way of looking at spirituality and our place within our increasingly global neighborhood. A deeply theological book, but also a practical one; causes one to ponder the spiritual implications of farmers' markets in altogether new ways."
— Booklist

"Beginning with earth (dirt), air (sky) and water Bass weaves an engaging story of interconnectedness ending in the revelation of the divine in the here and now. I thoroughly enjoyed the texture and twists of insights opening the stunning truth of emerging faith in our midst."
— Sister Simone Campbell, author of A Nun on a Bus

"Bass blends anecdotes from her own experience with incisive social commentary and interviews with people committed to making a difference in their communities. … A thoughtful examination of the current trend toward social engagement and practical spirituality."
— Shelf Awareness

"Although her ideas are revolutionary, the book is well grounded. Spiritual directors and other contemplatives will find themselves at home in Bass's descriptions of experiencing the presence of God in everyday encounters in the world as well as the unexpectedly numinous in nature or sacred places."
— Presence Journal