Essential Thoreau CD: Excerpts From the Journal of Henry David Thoreau (Abridged / CD-Audio)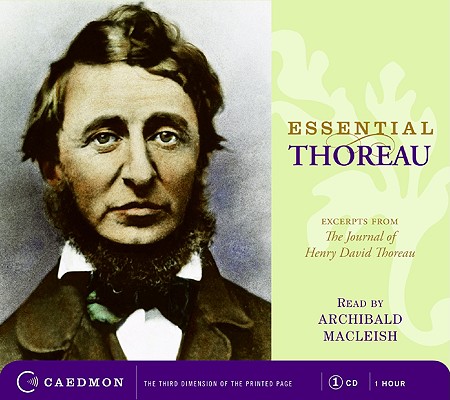 $12.99

On Our Shelves Now - Please call to confirm stock for hot titles
Description
---
One Great Author. One Great CD.
"'What are you doing now?' he asked. 'Do you keep a journal?' So I make my first entry today."
With these words, in response to prodding from Ralph Waldo Emerson, Henry David Thoreau embarked on a writing enterprise—his Journal—that occupied him continuously over the entire period of his literary career, from 1837 to 1862. In one sense Thoreau's Journal is his greatest achievement as a writer, the remarkable record of a remarkable man's view of the world. Ranging in topic from entries titled "Young Women at Parties" to "Sunlight after Storm", the Journal is neither diary nor autobiography in the usual meaning of these terms, because the daily chronicle and the narrative of outward events are minor aspects of this voluminous work. The Journal is clearly not the work of a diarist, but the notebook of a writer dedicated to the continuous practice of composition.
About the Author
---
Henry David Thoreau was born in 1817 in Concord, Massachusetts. He spent time as a school teacher after attending Harvard College but was dismissed for his refusal to administer corporal punishment. In 1845, wanting to write his first book, he moved to Walden Pond and built his cabin on land owned by Ralph Waldo Emerson. It was during his time at Walden that Thoreau was imprisoned briefly for not paying taxes; this experience became the basis for his well-known essay "Civil Disobedience." He died of tuberculosis in 1862 at the age of 44.
Henry David Thoreau (1817-1862) was an essayist, poet, philosopher, and anti-slavery activist. Among his other notable books are A Week on the Concord and Merrimack Rivers and Civil Disobedience.
Archibald MacLeish (1892-1982), was a Pulitzer Prize-winning poet and author of such eminent works as Conquistador and J.B.