The Professor and the Madman: A Tale of Murder, Insanity, and the Making of The Oxford English Dictionary (Hardcover)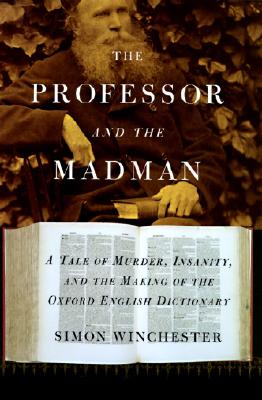 $23.00
This title is likely Out of Print or otherwise unavailable
Description
---
Now a major motion picture
About the Author
---
Simon Winchester is the acclaimed author of many books, including The Professor and the Madman, The Men Who United the States, The Map That Changed the World, The Man Who Loved China, A Crack in the Edge of the World, and Krakatoa, all of which were New York Times bestsellers and appeared on numerous best and notable lists. In 2006, Winchester was made an officer of the Order of the British Empire (OBE) by Her Majesty the Queen. He resides in western Massachusetts.
Praise For…
---
"A brisk, gracefully executed work of popular intellectual history, a model of its kind." — Washington Post
"A fascinating, spicy, learned tale." — Richard Bernstein, New York Times
"An extraordinary tale, and Simon Winchester could not have told it better. . . . [He] has written a splendid book." — The Economist
"Elegant and scrupulous." — David Walton, New York Times Book Review
"I found The Professor and the Madman both enthralling and moving, in its brilliant reconstruction of a most improbable event: the major contributions made to the great Oxford English Dictionary by a deeply delusional, incarcerated 'madman,' and the development of a true friendship between him and the editor of the OED. One sees here the redemptive potential of work and love in even the most deeply, 'hopelessly,' psychotic." — Oliver Sacks, M.D.
"There is much truth to be drawn [from The Professor and the Madman] about Victorian pride, the relation between language and the world, and the fine line between sanity and madness." — Wall Street Journal
"A marvelous, true story that few readers will have heard about." — Booklist
"It's a story for readers who know the joy of words and can appreciate side trips through the history of dictionaries and marvel at the idea that when Shakespeare wrote, there we no dictionaries to consult.... Winchester, a British Journalist who's written 12 other books, combines a reporter's eye for detail with a historian's sense of scale. His writing is droll and eloquent" — Bob Minzesheimer, USA Today
"Madness, violence, arcane obsessions, weird learning, ghastly comedy, all set out in an atmosphere of po-aced, high neo-Gothic. The geographical span is wide, from Dickensian London to Florida's Pensacola Bay, from the beaches at Trincomalee to the Civil War battlefields of the United States. . . . It is a wonderful story." — John Banville, Literary Review
"Mr. Winchester deftly weaves...a narrative full of suspense, pathos and humor.... In this elegant book the writer has created a vivid parable, in the spirit of Nabokov and Borges. There is much truth to be drawn from it, about Victorian pride, the relation between language and the world, and the fine line between sanity and madness." — Daniel Mark Epstein, Wall Street Journal
"Remarkably readable, this chronicle of lexicography roams from the great dictionary itself to hidden nooks in the human psyche that sometimes house the motives for murder, the sources for sanity, and the blueprint for creativity." — Kirkus Reviews (starred)
"Simon Winchester, in his splendid, oddball slice of history The Professor and the Madman, has come up with an irresistible hook... [an] utterly fascinating account of how a combination of scholarship and nationalism begat what would become the Oxford English Dictionary.... He's a superb historian because he's a superb storyteller.... The strange richness of it all is enhanced by the flawless clarity of Winchester's prose....The elegant curio he has created is as enthralling as a good story can be and as informative as any history aspires to be." — Linda Bridges, National Review
"The Professor and the Madman...is the linguistic detective story of the decade.... Winchester does a superb job of historical research that should entice readers even more interested in deeds than words." — William Safire, New York Times Magazine
"This is almost my favorite kind of book: the work of social and intellectual history which through the oblique treatment of major developments manages to throw unusual light on humankind and its doings. . . . Simon Winchester's effortlessly clear, spare prose is the perfect vehicle for the tale . . . absolutely riveting." — Will Self, The Times (London)
"Winchester has written a powerful account of the shifting foundations on which meaning is built, and the impoverishment of a language that could not describe or give peace to one of its makers." — Lithe Sebesta, New York Post
"Winchester's history of the OED is brisk and entertaining" — Mark Rozzo, Washington Post Book World
"The Oxford English Dictionary used 1,827,306 quotations to help define its 414,825 words. Tens of thousands of those used in the first edition came from the erudite, moneyed American Civil War veteran Dr. W.C. Minor—all from a cell at Broadmoor Criminal Lunatic Asylum....includes a well-researched mini-history of the OED." — Publishers Weekly